Susette Min
Impossible Exhibitions
We can't do that.
That can't be done.
That will never happen.
That's impossible!
What does it mean to curate an
impossible
exhibition? Does it mean that there is no way to move from conception to execution? That the exhibition exists only as an idea? Does it mean that the exhibition is impossible to see? Is the exhibition insurmountable to curate? What's at stake with this thought experiment in imagining an
impossible
exhibition? What can be gained from imagining exhibitions that will never be seen?
Impossible means that something – in this case an exhibition – is incapable of being experienced; a hopeless and unrealizable endeavor. Impossible also means extremely undesirable or unacceptable, something extremely awkward or difficult to deal with.
From personal experience and my professional perspective, there are a number of exhibitions that are impossible to curate due to a lack of money, space, cultural capital, and art world connections. On the other hand, one could also argue that an entire biennial—where organizers spare no expense or thought of spatial displacement or dispossession—is just impossible to see and experience, too. Not only is experience no longer singular, but we are trapped between the impossibility of making and experiencing.
Presuming the naysayers are right, that biennials are no longer a viable exhibitionary model except for the market and the state, how might the consideration of impossible exhibitions excite ideas and open up imaginative radical possibilities?
Such an exercise forces me to review my priorities and presumptions of what an exhibition is and does. I want an exhibition to be a place of wonder and discovery, contemplation and transformation, and also a platform for meaningful debates; a means to create the conditions for freedoms to be realized and practiced; a space where hierarchies, existing structures, and systems would be dismantled. I want it all, but they tell me it's impossible!
The following proposals are an attempt in part to re-consider the role of an exhibition in shaping experience as a one-off event. The imaginative process of engaging in this exercise underlines the imperative for exhibition-making to be truly a collaborative and ethical endeavor, contingent on the other as a way to imagine an alternative mode of relating or relationality between oneself and the world.
Inspired by artists who approach the exhibition as an artistic medium, an articulation of form, a fugitive space, a sensorial experience that is not ocularcentric, the following are some introductory and schematic proposals.
---
Burnt Grapefruit
At the entrance of the exhibition will be ashes of the first edition of Yoko Ono's
Grapefruit
owned by John Lennon. In contrast to her retrospective at MOMA, where
Grapefruit
was juxtaposed with a selection of Ono's paintings and sculptures, the artwork included in this exhibition is by anyone and everyone who has imagined and followed through with her whimsical and subversive instructions since its first publication in 1964.
The Museum of the Void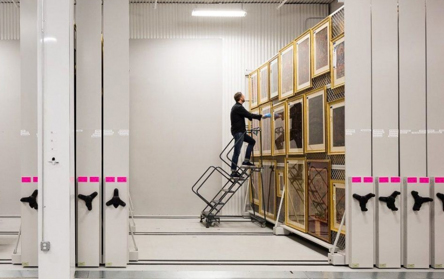 As a nod to Robert Smithson,
The Museum of the Void
, will reveal nothing and everything. Artworks currently on display in major museums around the world that charge an admission fee will be placed in a large time capsule in the shape of a storage space. The exhibition will close in 3020 wherein the capsule will be opened, and the artworks placed in their original location, circa, January 2020.
Faire un Rêve
Drawing by Marcel Dzama
In contrast to the display of people sleeping as in the Metropolitan Museum of Art's exhibition
Dream States
(2016),
Faire un Rêve
is a display of dream-states that can only be viewed in that interval between sleep and wakefulness; a state of
surreality
, a "future resolution of…dream and reality" as conceived by André Breton.
Dear Uncle Kim or Missed Rendezvous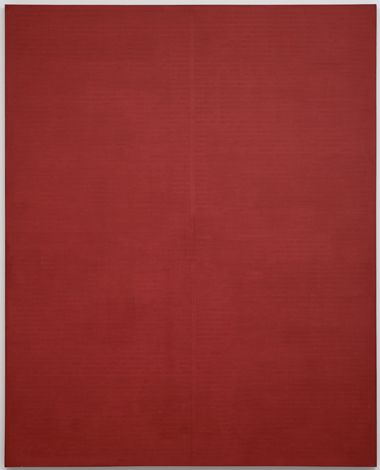 The exhibition is a comprehensive retrospective of Guiline Kim's paintings, an impossibility as a fire destroyed many of his life works stored in a warehouse in Seoul, Korea. Guiline Kim is my uncle, the father of my second cousin. When I saw him this past year, it was clear that he no longer had the capacity to make art. He made his American debut at Lehmann Maupin in 2016 at the age of 80. The exhibition in New York City was an introduction short-circuited, a glimpse of what was a life-long endeavor to see the imperceptible or in the words of Jean-Louis Ferrier, "thosegaps in our perception."
Dear Uncle
would be an electrifying field of forbidden colors and wavelengths of light; an opportunity for the world and family to see Guiline Kim's oeuvre out in the open as a metaphorical mise en abyme, a colorful void and presentation that would complicate how his works have been perceived within a context of dualities: inside and outside, east and west, yin and yang, French and Korean, materialization and dematerialization.
Endless Borders
Drawing by Dan Perjovschi in
Welcome?
(2018)
An exhibition of artworks that have addressed the politics and militarization of borders, past and present. The works will be mounted on the walls, fences, gates, tents, and deportation centers that currently align all the border zones and crossings around the world. The exhibition opening will be a convivial evening of opened borders, free food and drink.
Hold Up
Hold Up
is a multimedia exhibition that will include sculpture, social practice, and performance. In exchange for a firearm that will be placed in a growing mound of other firearms located in the civic center of each state capital in the United States, every participant will get a copy of the US Constitution and the Universal Covenant on Civil and Political rights, and a chance to throw down the gauntlet and engage in civil discourse vis-à-vis dance, verse, performance, and rap, with those whose advocacy and work address violence, past and present, local and global.
Blood Draw
Inspired in part by Ana Mendieta,and in light of our past and present conceptions of blood—how it unites and divides, normalizes and pathologizes us— this exhibition consists of rooms covered over and filled with our own blood.
Decolonial Acts
The exhibition will entail removing and repatriating all artworks, on display and in storage, in museums around the world, that were stolen by colonial powers, and displaying them first in art spaces in the global south, such as Senegal's Musée des Civilisations Noires and war-torn museums such as the Mosul Museum and the National Museum of Iraq. The artworks would then be organized in a traveling exhibition by an array of diasporic scholars and curators, circulating around the world like Edward Steichen's
The Family of Man
, anexhibition that was presented in 91 cities in 38 countries, and seen by more than 9 million visitors. In contrast to
The Family of Man's
universal message of let's all get along, we are all the same family of life, the exhibition addresses living side by side with difference, complicating and challenging the ways in which modern and contemporary art, modernity and modernism have been addressed. In place of the repatriated artworks of former colonies and occupied states, contemporary artworks that address a specific country's colonial past will be put on display as part of an ongoing practice of decolonizing art history and the museum.
Aesthetics of Administration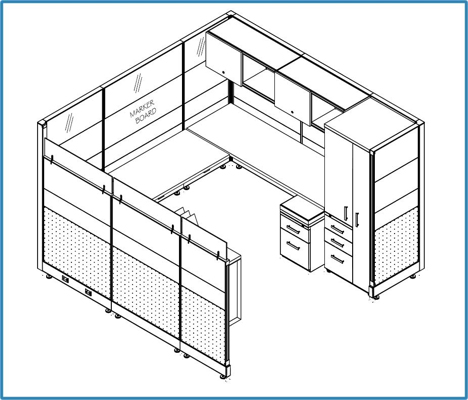 Riffing off Mel Bochner's
Working Drawings and Other Visible Things On Paper not Necessarily Meant to be Viewed as Art
and inspired by Kadia Attia's cubicle presentation of
Reason's Oxymorons
and Mika Tajima's manipulation of cubicles,
Aesthetics of Administration
shatters the illusion of exhibition-making as seamless, effortless, glamorous, and conflict-free. In the center of the room will be a set of cubicles and its usual utilitarian décor. On each desk will be thick heavy notebooks filled with office correspondence, invitation letters to collectors and artists, exhibition proposals conceived and re-conceived, provenance documentation, loan forms, budgets, and grants. On the walls will be mounted a wide range of tools used by art preparators. Leaning against the cubicle walls will be crates, bubble wrap, and other storage and art handling materials that partially obstruct an observer's navigation throughout the space.
Edu-care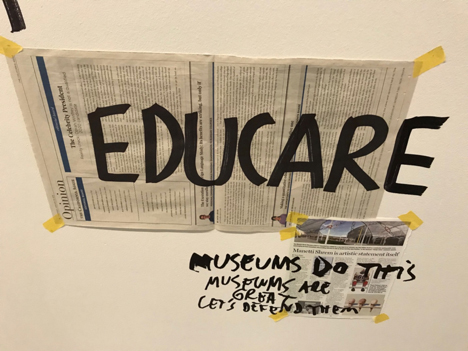 Drawing by Dan Perjovschi in
Welcome?
(2018)
Opening the doors and occupying the museum– inspired by the actions of undocumented migrants who took over the Musée National de L'Histoire de L'immigration and more recently the Panthéon—the exhibition displaysthose who are not displaced and dispossessed, but rather those who want to detain and deport them.
Mutual Consent
Drawing by Louise Bourgeois
Inspired by the likes of Creative Arts Ensemble, Yukinori Yanagi, and Anicka Yi, informed by the scientific studies on the ways parasites such as rove beetles live and thrive alongside ants, Michel Serres's conceptualization of the parasite, and my current research on hospitality,
Mutual Consent
presents colonies of ants and ant spiders side by side with an array of sculptures by Louise Bourgeois, the works of ecoLogicStudio, Tomas Saraceno and others.
John Baldessari