Empress of the Ants
Instagramacus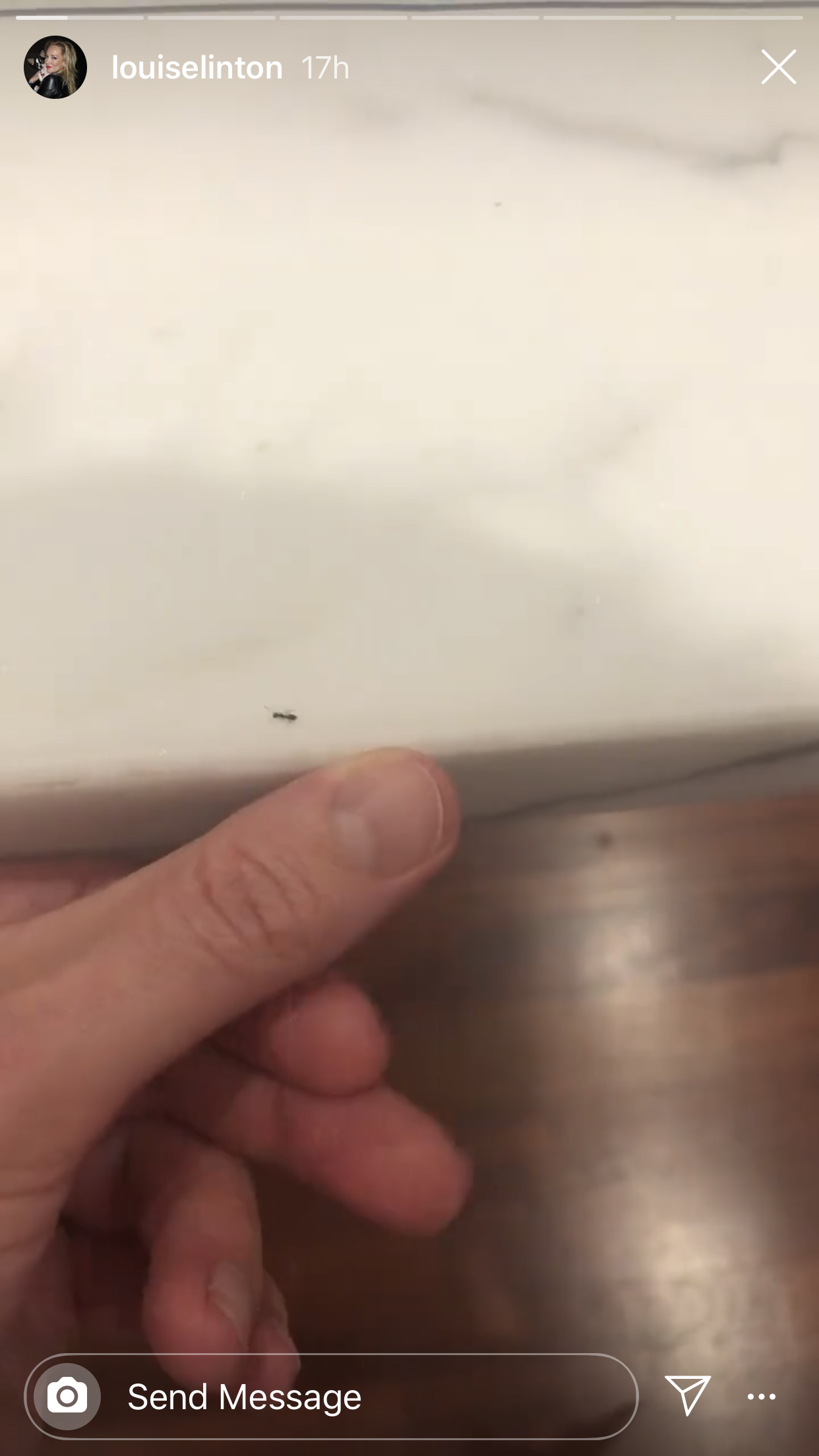 Sometime on Saturday, April 18, 2020, Louise Linton, the actor and film director who is married to Steven Mnuchin, the United States Secretary of the Treasury, posted a series of videos on Instagram Stories in which she rescued an ant from her kitchen by using a piece a paper to transport the tiny insect outdoors. She provided a voice-over as she did so, encouraging the little "ant-man" to allow her to help it. The photos you see here are screen shots from Linton's Instagram account, which is set to private.
Linton, born to wealthy parents in Scotland, grew up in a castle before emigrating to the United States to pursue a career in acting. She appeared in a small role in 2016 in Warren Beatty's last film,
Rules Don't Apply
, of which Secretary Mnuchin was one of the producers. She is known for her interest in animal rights, and often posts information opposed to animal cruelty. She is better known to people without access to her Instagram account for the descriptions of her wedding jewelry she gave to Town & Country magazine in June 2017, in which she mentioned various glamorous movie stars from Hollywood's Golden Age while wondering where her diamonds originated and where they might end up after she's gone.
Linton is perhaps best known for a November 2017 photograph taken of her and Secretary Mnuchin as they visited the Bureau of Engraving and Printing, where US currency is made. The photo of the couple drew comparisons to the villains in James Bond and Disney films. In the photo Linton, in a black coat and long black leather gloves, holds up a sheet of dollar bills with Secretary Mnuchin. He looks off camera while Linton stares into the lens delightedly.
Linton made her Instagram private sometime after a previous post that drew scrutiny. In that post, she and Secretary Mnuchin were shown disembarking from a military jet. In the photo, Linton tagged the names of the fashion designers whose clothing and accessories she was wearing that day. When a user mocked her, she responded by asking the woman if she thought she had "given more to the economy than me and my husband? Either as an individual earner in taxes OR in self sacrifice to your country?"
Linton went on to tell the woman that she was "pretty sure we paid more taxes toward our day 'trip' than you did. Pretty sure the amount we sacrifice per year is a lot more than you'd be willing to sacrifice if the choice was yours."
The subject of sacrifice is fraught these days. Over 40,000 people have died in the US from coronavirus so far this year, as I write this on April 20, 2020. Hundreds of thousands more have become infected. Many of the dead are first responders and family members of first responders. To combat this crisis, Secretary Mnuchin has presided over various stimulus plans that give 80 percent of benefits to the wealthiest people in the United States while sending some of the rest of the population small checks that will not cover their monthly expenses. That money will not cover their healthcare, for instance, which is provided by private insurers in the U.S.
People will continue to get sick from Covid-19 and too many of them will not survive. Professionals in hospitals and first responders will risk their lives every day, and so will the workers in grocery stores and in other essential services. The work they do is saving our lives. Meanwhile, Louise Linton, friend of even the tiniest creatures, has saved an ant. Karmically, she's good.